The California State Lottery operates nine District Offices across the state. When you visit any of them, you can get help filing your claim for prizes of $600 or more. Remember to sign the back of your ticket, then bring it to any of our locations listed below Monday to Friday from 8 a.m. to 5 p.m., except on state holidays.
*Note: The opportunity for same day check processing of claim prizes $600 to $1000 stops at 4:30pm in each district office location. Same day check not guaranteed,
Prizes up to $599 can be claimed at a California Lottery retailer. For prizes $600 and above, players can claim their prize via mail or at their local District Office. For complete instructions on how to claim a prize by mail, please visit the Claim A Prize page.
Prizes of $1,000 or less are eligible for same day payment at at our Chatsworth, Costa Mesa, Fresno, Rancho Cucamonga, Sacramento, San Diego and Santa Fe Springs District Offices from 8am to 4:30pm. After your ticket is validated and your Claim Form is approved, you have an opportunity to get your check while you wait. *Same day check is not guaranteed. Some claims, including but not limited to 2nd Chance prizes, promotional awards, and prizes won on advance plays, may not qualify for same-day payment and will require additional processing at Lottery Headquarters.
GET THE DETAILS
Lottery District Offices
Office
Address
Phone

1Milpitas


900 Hanson Court
Milpitas, CA 95035

(408) 214-4204

2 Sacramento

4106 East Commerce Way
Sacramento, CA 95834

(916) 830-0292

3 Richmond

618 South 8th Street, Suite 300A
Richmond, CA 94804

(510) 806-8960

4 Fresno

7620 North Del Mar Avenue
Fresno, CA 93711

(559) 449-2430

5 Chatsworth

9710 Topanga Canyon Blvd.
Chatsworth, CA 91311

(818) 722-1602

6 Rancho Cucamonga

11138 Elm Avenue
Rancho Cucamonga, CA 91730

(909) 803-6232

7 Santa Fe Springs

9807 Bell Ranch Drive
Santa Fe Springs, CA 90670

(562) 777-3434

8 Costa Mesa

235 Baker Street East
Costa Mesa, CA 92626

(714) 716-4076

9 San Diego

5656 Ruffin Road
San Diego, CA 92123

(858) 492-1700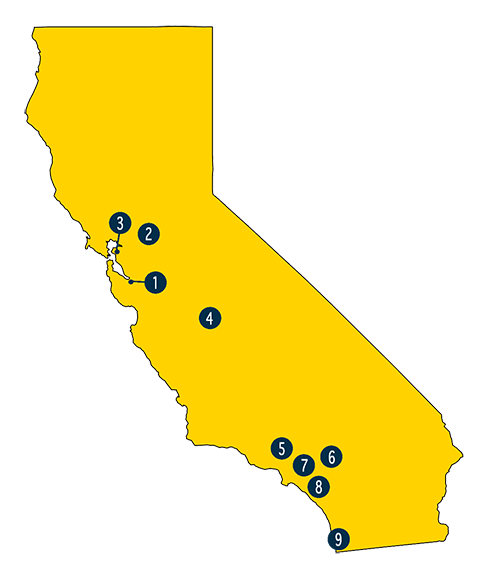 If you have any questions, just call the Lottery's Customer Service Department at 1-800-LOTTERY (1-800-568-8379) TDD: 855-591-5776, Monday to Friday from 8 a.m. to 5 p.m., and we'll be happy to help you. California State Lottery Corporate Headquarters are at 700 North 10th Street, Sacramento, CA 95811. Keep in mind, though, that you can't visit them to file a prize claim. Visit the Sacramento District Office for help with filing a claim in the Sacramento Area.