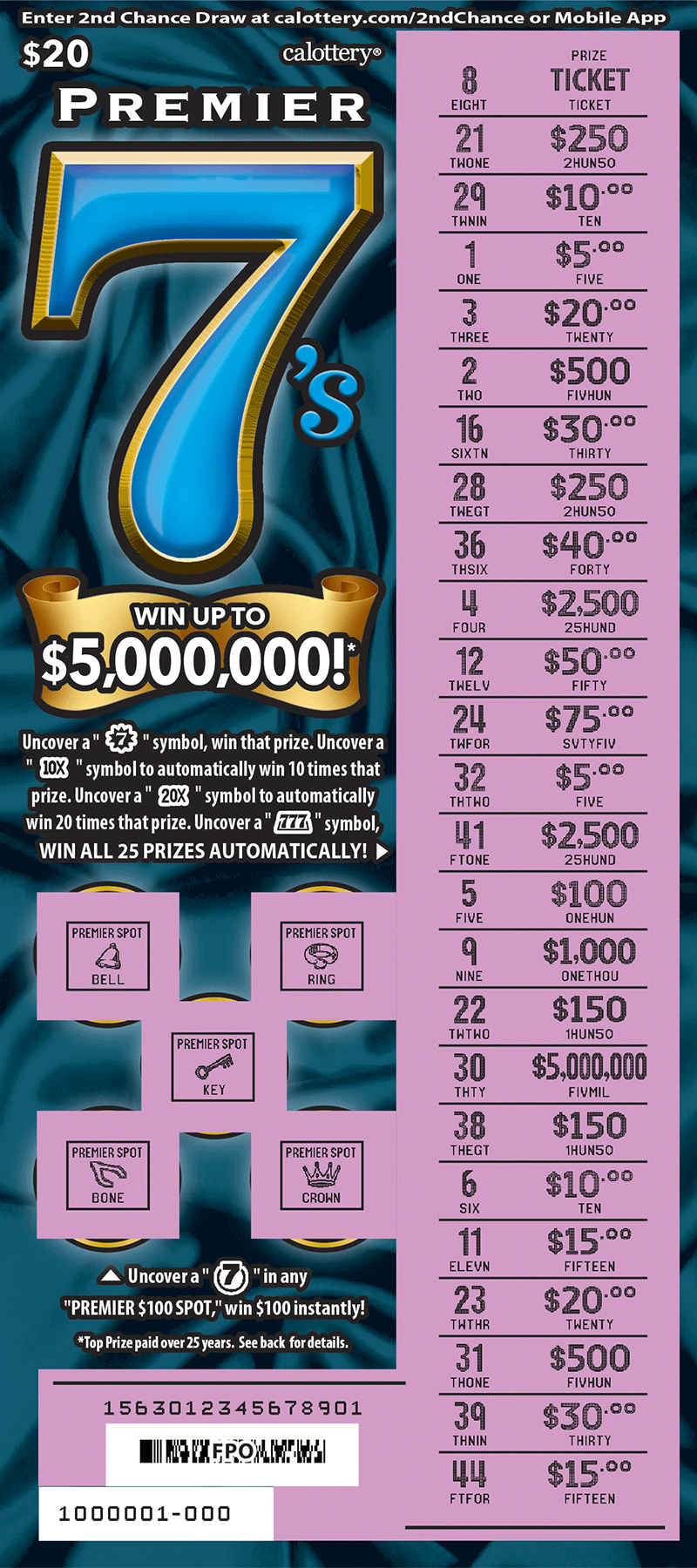 Price: $20
Level Up to Premier Status
Take your play to the next level with Premier 7s Scratchers®. With up to 30 chances to win per game, including five instant-win premier $100 spots, a 25-prize win all, and chances at 10X and 20X prize multipliers, this handsome, upscale game is like an upgrade to first class. Best of all, it offers chances at an incredible TOP PRIZE OF $5,000,000!
Game Number: 1563
Overall odds: 1 in 3.32
Cash odds: 1 in 4.96
Odds and Available Prizes
Last Updated Jun 02, 2023 02:45:06 a.m.
This table reflects all Scratchers prizes for this game. After game start, some prizes, including top prizes, may have been claimed. Odds are rounded to the nearest whole number.
Go to Scratchers 2nd Chance program to submit your non-winning tickets for another way to win!
Prizes
Odds 1 in
Prizes Remaining
$5,000,000
3,044,706

4

of

5

$2,500
3,996

3,436

of

3,810

$500
250

36,891

of

60,897

$250
355

25,883

of

42,900

$100
89

103,906

of

171,533

$75
60

153,076

of

253,563

$50
30

306,289

of

507,451

$40
15

612,539

of

1,014,902

$30
15

613,369

of

1,014,902

Ticket
10

922,390

of

1,522,353
Uncover a "7 BURST" symbol, win that prize.
Uncover a "10X" symbol to automatically win 10 times that prize.
Uncover a "20X" symbol to automatically win 20 times that prize.
Uncover a "777" symbol, WIN ALL 25 PRIZES AUTOMATICALLY!
Uncover a "CIRCLE 7" in any "PREMIER $100 SPOT," win $100 instantly!
$100,000 TOTAL in Scratchers 2nd Chance Weekly Pool Draws
If your Scratchers ticket isn't an instant winner, submit your non-winning Scratchers ticket into 2nd Chance for another opportunity to win cash prizes in a weekly draw.
There are two simple ways to enter your ticket into 2nd Chance. Submit your ticket on the website by entering the first 13 digits of your entry code (see 1 below) and first 7 digits of your ticket ID (see 2 below). Or, for a fast and easy way to play, submit your ticket on the California Lottery mobile app by scanning the barcode (see 3 below).
Check out the Scratchers 2nd Chance program for more information.