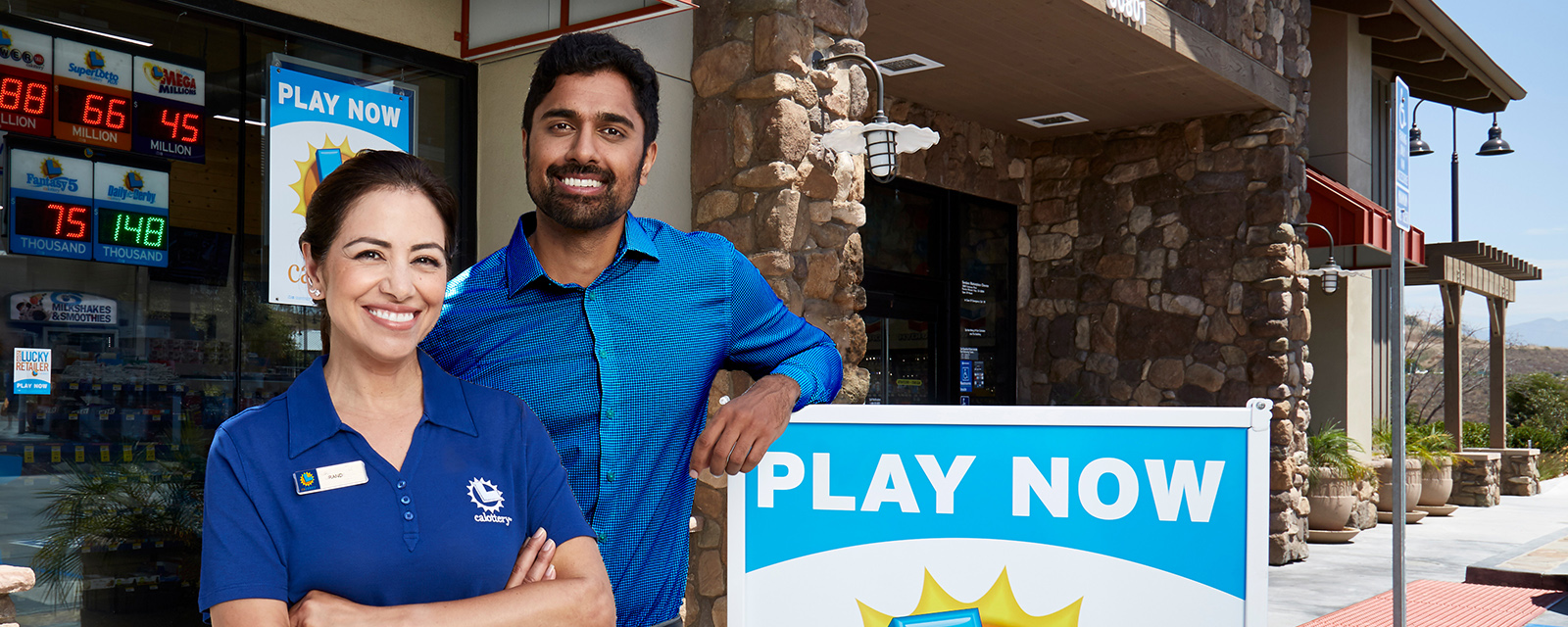 Become a Retailer
Be part of a winning team


Every California State Lottery retailer plays an important part in our mission: to provide supplemental funding to benefit public education. Partnering with retailers like you, we've given approximately $41 billion to California's public schools and colleges since our first Scratchers® ticket was sold in 1985.
Along with helping students, Lottery retailers enhance business in an exciting, fun way. It's easy to become one, too, because our local representatives will help you every step of the way. Request an evaluation today and we'll contact you within 10 business days.
Since the Lottery began in 1985, retailers have earned over $8.5 billion in commissions and bonuses. On top of regular Lottery commissions on tickets you sell and redeem, when your customers win big, you will too. That's because you'll have a chance to earn half a percent on every Scratchers, Mega Millions® and Powerball® ticket you sell with a top prize of $1 million or more. See Retailer Incentives to learn all the fun ways you can earn Lottery commissions and bonuses.
You'll also benefit in all these ways:
Jackpot frenzies and fresh marketing tools help drive traffic to your store.

New and exciting Scratchers games every month give customers a reason to keep coming back.

Studies show that for every $5 Lottery transaction, players spend an additional $10 in the store.

The Lottery provides up to 50 days net financing on Scratchers products
The Lottery sees our retailers as true business partners. That's why we created a network of representatives to guide your success from day one. Your District Recruiter will help you through the application process, your District Sales Representative will be there for inventory control and marketing materials and your Lottery Ticket Sales Specialist will help you activate and order new Scratchers games.
Our Lottery Retailer Portal gives you:
Sales trends.

Data on which Scratchers games sell best in your store.

Your next invoice total.

Sales reports delivered by email through the report subscription feature.

Real time alerts so you'll immediately know, from anywhere in the world, what's going on inside your retail establishment.

A convenient way to print jackpot signs and winner awareness flyers.

Easy ways to share jackpot and winner messages on Facebook and Instagram
Existing Retailers: Access Retailer Portal
As one of the most recognizable brands in California, the Lottery continually refreshes the marketing materials we deliver to your door every month. This keeps your messages consistent with our statewide campaign, which includes radio, television and billboard advertising. Displaying the latest window decals, game-specific and point-of-sale signage and other materials shows your customers that you have the newest Lottery products.